First there's the headline: "Mysterious lake in Tunisian desert".
Ooh ... Scary.
So I went and looked. Yes, a lake appeared in the middle of the Sahara. But, of course, there's water underground, and geologists think a tremor opened up a crack that became a spring. Fair enough, but no mystery.
But what did the locals do? Well, they're human, so they thought: "Lake. Desert. Lets' go swimming!".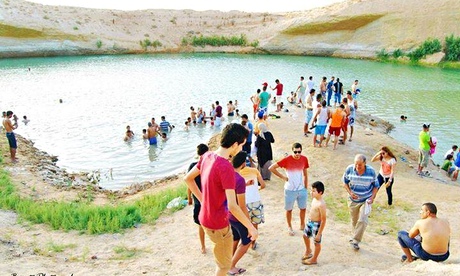 This new lake is about 20 miles outside of Gafsa.* This is a small city, of about 100K inhabitants about 100 miles in from the Mediterranean. Here:
View Larger Map
I love two things about this picture, and both of them are related to the prejudices of people in the west. First off, I like the natural inclination to get in the water, even if you have to roll up your pantlegs or get your clothes wet. There's an inclination to think that people in other countries aren't like us. This is evidence that we have more in common than not. Second, in the developed world, we have a tendency to view Arab countries through the lenses of oil wealth, refugee camps, and terrorists. But Tunisia isn't like that: it's been quietly turning into a middle income country for decades. It's now a well off Arab country with no oil (that's not to say that the country is in great shape, but I think comparing it to Mexico is reasonable). So anyway, take a look at the clothes. There's a hundred people there that look like they just got back from The Gap. And it's not like Gafsa is a major city near an international airport. And yet, not a burqa in sight. That's not surprising to me, but it may be to some of you.
* I learned some trivia about Gafsa while preparing this: 1) it's where the Tunisian spring revolution started, and 2) descendants of Romans — Christian and speaking a Romance language — survived here until the late Middle Ages.