Didja' know the Earth has natural wonders that are newly discovered? I know that sounds trite, but I found that FOXNews.com piece fascinating.
We can thank Google Earth, and the people who like to study random stuff* on it for these: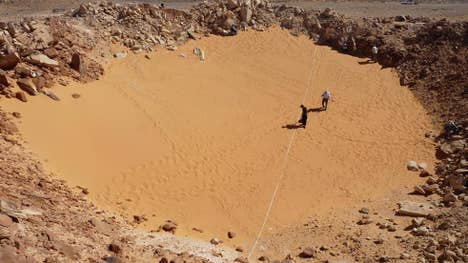 This is Kamil Crater, created within the last 5,000 years, found in 2008 and first visited in 2010, and regarded as the best preserved meteor crater on Earth.
Then there's newly created Asik-Asik Falls:
This wasn't even there in 2008. There had been trees rooting into the groundwater behind this cliff; when a typhoon tore the trees down, out poured a new waterfall.
Also pictured and discussed are:
* I've posted about both seeing my dog on Google Earth, and also me personally on Google Streetview. FWIW: our dog is not visible on the current image; but it's sharper and you can make out potted plants and our grill.