I think the other people in my family are unusually interested in daylight saving time. This site will help me with some inevitable questions.
But the graphics are tough. Here's one. It shows the hours of daylight in light blue. The year goes horizontally, so summer is in the middle of each panel. The hour of the day goes vertically — with evening at the top. So thickness in the middle is long summer days.

The panel on the left shows no daylight saving time. The panel on the rights shows what daylight saving time does: shifts a little bit of evening into the morning.
Then there's this one. It shows day of the year across the horizontal axis — so northern summer is in the middle. Vertically, it shows latitude from south pole to north pole — so the horizontal blue line approximates the continental U.S. The shading shows daylight: white is the most, yellow quite a bit, blue is less than half, and gray is none at all.
Days getting longer and shorter is then the transition of colors going left to right. In the U.S., our short days of winter transit into long days of summer and back again.
This emphasizes something I became acutely aware of when I moved to the almost always sunny high desert of Utah: the transition from short days of winter to long days of summer happens really rapidly. This is the steep slope at the border between the blues and greens and yellows.
All this leads to this chart. The left panel is sunrise, and the right panel is sunset. Browner means less sun, and yellower means more sun.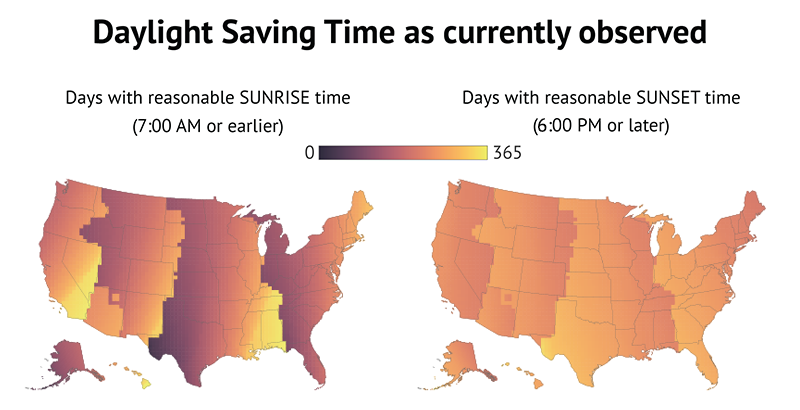 So in Utah, where I live now, daylight saving time makes for darker mornings (our mountains just to the east make that worse — the sun comes over them about 8:35 in midwinter), and sunnier evenings.
For my part, daylight saving time always reminds me of moving from Buffalo, New York — along the far western border of the eastern time zone, to Tuscaloosa, Alabama — along the eastern border of central time. I was shocked at how early the sun set in the winter in Alabama  — you'd start to notice it dimming about 3:45 in the afternoon.
And you can clearly see that in the last panel on the right: Alabama is one of the brownest places at sunset, indicating early darkness. I guess at that age (I was around 25) that I never got up early enough to notice the bright, early, mornings in Alabama.